Research Areas - Organic/Bioorganic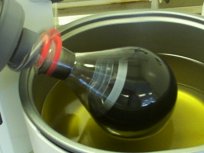 The organic chemistry research area of the Department of Chemistry and Biochemistry at the University of California at Santa Barbara offers a nice mix of cutting edge research, student mentorship, and coursework on one of the most attractive campuses in the USA.  It's a friendly place where students can wander into faculty offices to ask questions.  Nevertheless, it remains a center for cutting-edge research vigorously preparing students for future careers in organic chemistry.

Ongoing research spans all the major areas of organic chemistry and encompasses a variety of topics such as enzymatic processes, synthesis of biologically important natural products, new asymmetric methods,  novel organometallic catalyst development and much more.Therefore, we were not surprised to learn that the chemistry department at UCSB was recently ranked among the top departments in the USA in the 2002 U.S. News & World Report. Several of our graduate students have won national awards, such as the ACS Organic Division Fellowship. We aim to continue to improve our department by recruiting the best students. Our department offers several intradepartmental awards to facilitate the research efforts of our most outstanding undergraduate and graduate students.
Organic Research Faculty
Awards for undergraduate and graduate students in organic & bioorganic chemistry
B. R. Baker Lecturers & Graduate Student Awards in Organic & Bio-organic Chemistry
Robert H. DeWolfe Teaching Fellowship in Organic Chemistry
Robert H. DeWolfe Summer Undergraduate Fellowship
Lecturer Faculty
Emeritus Faculty