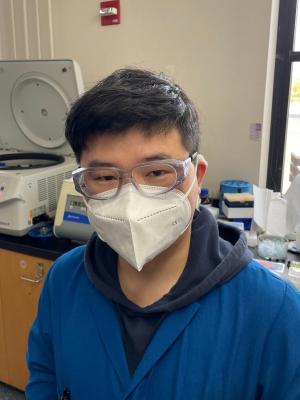 Specialization
:
Wenzhen's graduate research focused on the development of novel chiral phosphine ligands for Ni-catalyzed asymmetric reductive couplings.
Education
:
Wenzhen received his PhD from the Shanghai Institute of Organic Chemistry under the direction of Prof. Wenjun Tang. Prior to UCSB, Wenzhen was a postdoctoral researcher working with Prof. Marcus Tius and Prof. James Turkson at the University of Hawaiʻi at Mānoa.
Publications
:
"Engineered P450 Atom Transfer Radical Cyclases Are Bifunctional Biocatalysts: Reaction Mechanism and Origin of Enantioselectivity" Yue Fu, Heyu Chen, Wenzhen Fu, Marc Garcia-Borras, Yang Yang* and Peng Liu*, Journal of the American Chemical Society 2022, 144, 13344–13355.
"Undirected Biocatalytic Amination of Unactivated C(sp3)-H Bonds" Wenzhen Fu and Yang Yang*, Chem Catalysis 2022, 2, 3287-3289.
"Enzyme-Controlled Stereoselective Radical Cyclisation to Arenes Enabled By Metalloredox Biocatalysis" Wenzhen Fu, Natalia M. Neris, Yue Fu, Yunlong Zhao, Benjamin Krohn-Hansen, Peng Liu* and Yang Yang*, Nature Catalysis 2023, 6, 628–636.