You did the research. We want to hear it.

The Chemical Sciences Student Seminar is created and run by Graduate Students in the Chemistry and Biochemistry, and Materials Departments. In this seminar, experienced graduate students and researchers across campus will present their work through well crafted, general-audience talks designed to appeal to scientists from any discipline at any experience level.
The collegial and friendly atmosphere of our seminar will provide a great opportunity for you to connect with other students, learn from them, and potentially ignite some helpful and collaborative conversations. Each one-hour seminar will feature two talks from graduate students (each 20 min + 5 min questions) as well as a short promo from our generous sponsors. 
---
The goal of this seminar is to provide graduate students with the opportunity to:
- Present to a large audience of their peers, gaining valuable public speaking experience
- Learn about your fellow graduate students' research projects
- Broaden your science knowledge base
- Learn how your colleagues present and characterize their results
- Potentially spawn a new collaboration
- Improve public speaking and communication skills
- Consume even more complimentary coffee and pizza
---
Travel Grant Award
Any student, regardless of department affiliation, that presents during the 2014-2015 seminar series will be eligible for a $500 travel grant award. This award is given to the student that presents the best overall presentation, upholding the continued tradition of high quality general audience research talks. At the conclusion of the seminar series students graduate peers, faculty, and staff members will have the opportunity to vote for the best overall presentation. 
This award is separate from the "Best Scientific Presentation" given to Department of Chemistry and Biochemistry students and will consider any student that presents during the seminar series. 
Best Scientific Presentation Award
Students presenting from the Department of Chemistry and Biochemistry have an opportunity to be awarded with the Best Scientific Presentation Award. This award was created in 2013 to honor students who effectively gave general research presentations during the Chemical Sciences Student Seminar.
Eligiblity of this award require the student to be in the Department of Chemistry and Biochemistry, hold graduate standing at the time of voting, and present during the Seminar Series. All of the eligible students are then voted upon at the conclusion of the Seminar Series by their Graduate peers, faculty, and staff members. Voters are encouraged to think of who best presented their research to a general audience for broad understanding. This award is presented during the Spring Graduate Student Symposium. 
Scientific Communication Award Recipients:
| | | |
| --- | --- | --- |
| Year | Recipient | Presentation Title |
| 2013 | Zachary Henson | Towards environmentally friendly processing of organic semiconductors |
| 2013 | Peter Burks | Quantum dots as sensitizers for photochemical drug delivery |
| 2013 | Robert Levenson | The Bacterial Flagellar Motor: Understanding an amazing Nanomachine |
---
CS3 Executive Committee
The Executive Committee Organizes the seminar. Each member is in charge of activities they find interesting. If you are interested in helping with the CS3 Series, please e-mail csss@chem.ucsb.edu.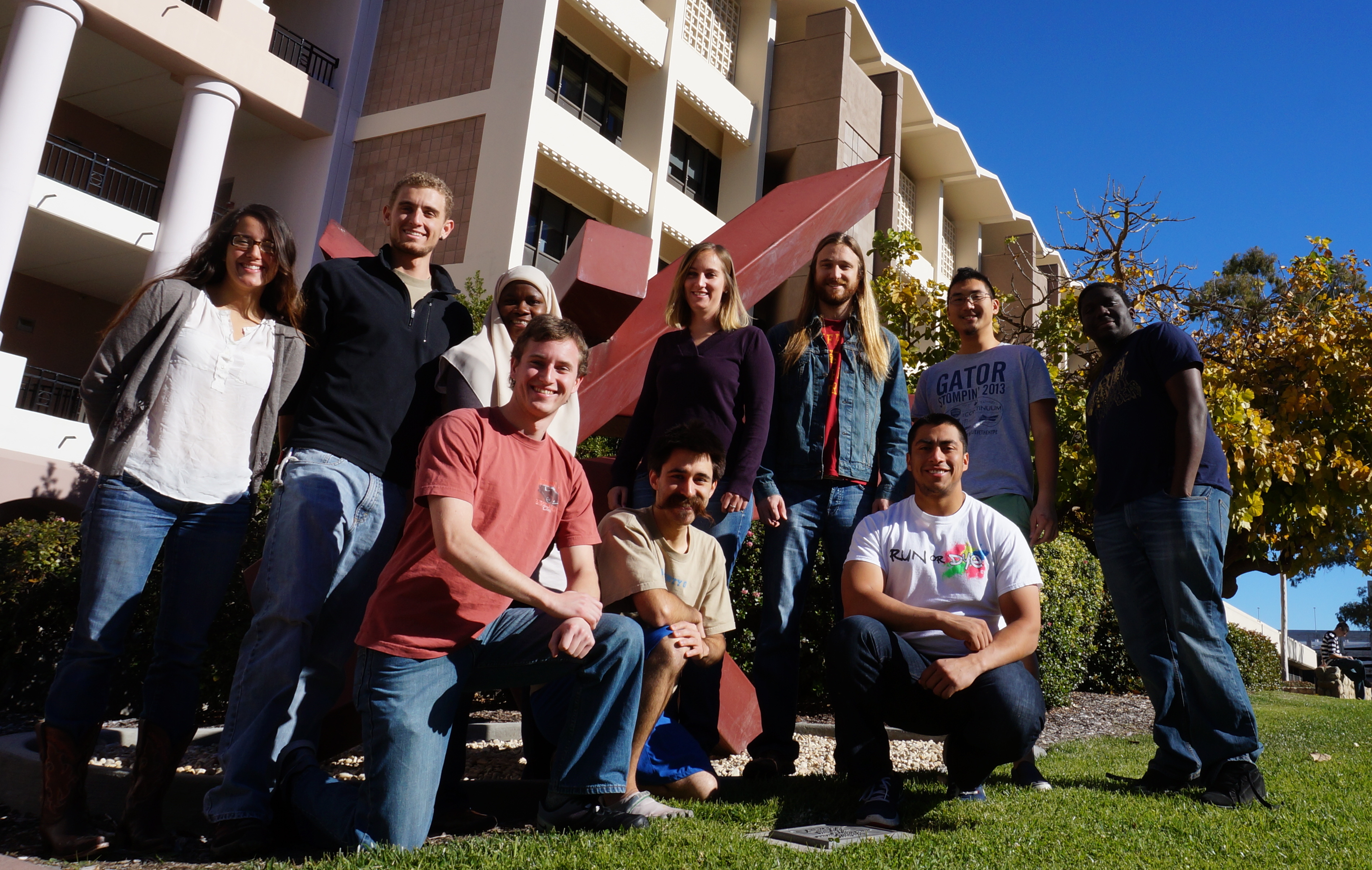 (Front L-R)- Dayton Horvath, Michael Gaultois, Jose Navarrete. (Back L-R) - Maria Jarvis, Nate Kirchhofer, Kuburat Saliu, Hannah Kallewaard, Agustin Pierri, David Hwang, Ed Paul. (Not Pictured) - Yassine Dhane
---
The Founding of CS3
The Chemical Sciences Student Seminar (CS3) was founded by Dr. Peter T. Burks in 2011 and officially launched in January of 2012.  Peter received his Ph.D. in inorganic chemistry under the supervision Peter C. Ford in 2013. His research efforts focused on harnessing the properties of nanomaterials to design new light-activated drug delivery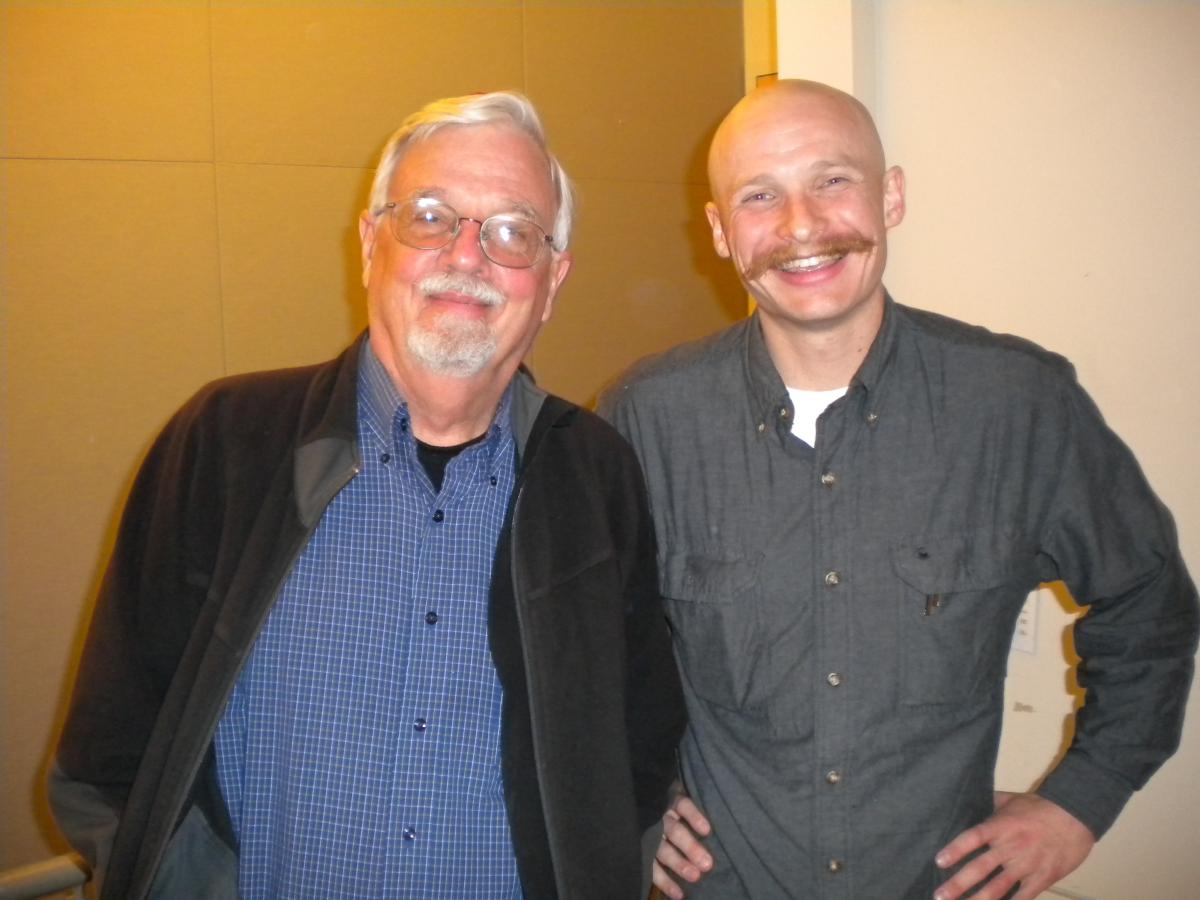 platforms. Outside of research, Peter lead efforts in several science outreach programs and completed a certificate in entrepreneurship. In late 2011, he noticed a communication disconnect between graduate students in the Department of Chemistry and Biochemistry. This inspired him to found a new type of seminar series that focused intently on quality communication and presentation of research. An unquestionable result of Peter's drive and initiative, the Chemical Sciences Student Seminar was therefore created. Peter designed the seminar format, recruited talented speakers, and raised the necessary funds to enable the first edition of the CS3 to take place in January 2012. By the second edition in fall 2012, the CS3 was one of the highest regularly attended student seminars on campus. This early success enabled Peter to recruit talented graduate student volunteers to take over leadership upon his graduation and to continue to grow the success of CS3.  As a result CS3 has established longevity and status as a highlight and point of pride for the department.  The current members of the CS3 Executive Committee continue to uphold Peter's original vision for the series: quality communication and presentation of research.
Photo: Dr. Peter Burks (right) with Department Chair Dr. Rick Dahlquist at the launch of CS3, January 19, 2012.