UCSB is a unique close-knit community, servicing the needs of a highly diverse group scholars, students, faculty, and staff.  The campus offers a wide variety of resources, services, information, and professional staff to help meet your needs throughout your academic career at UCSB.  The following may be of particular interest to graduate students, more comprehensive lists of student services can be found at the links to the left or :
Graduate Advising Chair
Graduate Admissions Chair
Graduate Program Assistant

Graduate Division
The Graduate Division is the center of all graduate studies at UCSB.  Under Policies set by the UCSB Graduate Council, the Graduate Division recruits students and processes their applications to all graduate programs, promotes diversity at the graduate level, secures and awards graduate financial support, and administers graduate students' academic records (UCSB General Catalog, "Academic Units").
Graduate Student Resource Center: Located in Student Resource Building, Room 1215, the Graduate Student Resource Center is a resource for graduate students seeking information, referral, and support throughout their programs of study.  The Center offers events and workshops aimed at increasing student support. 
Graduate Peer Advisors: UC Santa Barbara graduate students, both current and prospective, can take advantage of the services provided by the experienced graduate student peer advisors.  These positions are housed in the Graduate Division, and although they take different approaches and address different audiences, they also work together to provide a comprehensive series of services for the graduate community.  These unique positions exist in order to ensure a rewarding and high quality graduate school experience. They complement one another in that they each promote graduate student success.
Office of International Students and Scholars
The Office of International Students and Scholars (OISS) is the one place on campus that can assist you in all matters that relate to your visa status whether you hold an F-1 or J-1 visa. The OISS staff can answer your questions concerning how your academic program will affect your visa status. OISS can help you with questions about work or internships. They can help you in the event of an emergency. OISS is also the place to meet other international students. They can put you in touch with the international student associations on campus. OISS sponsors cultural events and workshops to enrich both your academic and social life. Their office has a lounge and computer stations that are available to international students during office hours.
Office of the Registrar
The Office of the Registrar maintains official student records, registration and enrollment information, and annual and quarterly

schedules and deadlines.  Enrollment instructions, fee information, policies concerning grades, final exam schedules, transcript and verification information, instructions for establishing residency, and veterans benefits information can all be obtained via the Office of the Registrar online or in the Student Affairs and Administrative Services Building (SAASB), Room 1101.  Forms associated with registration and credit exceptions, fees, special enrollment programs, and student record changes or inquiries are also available via the Office of the Registrar.  In addition, the Office of the Registrar is the campus authority the Family Educational Rights and Privacy Act (FERPA), which protects a student's right to privacy. 
Community Outreach and Involvement Opportunities
Chemical Sciences Student Seminar (CSSS or CS3) Series: The CSSS is a forum for graduate students in the DCB, created and managed by graduate students, to share their work and research with each other as well as any and all members of the campus community.  One quarter per year, approximately 16, 20-minute general audience talks (2 per week, during the noon hour) are presented by advanced (3rd-5th year) graduate students.  During the spring, the Department presents the Scientific Communication Award to the speaker who best communicated their scientific research, as determined by a vote of other graduate students and audience members.  The award recipient will also be asked to give an encore presentation in the presence of alumni, faculty, and other invited guests.  All DCB graduate students are invited and encouraged to participate in the planning and organization of the CSSS.  Opportunities for involvement include seminar and room scheduling, fundraising and networking, recruitment of qualified speakers, event-day set-up event-day master of ceremony (MC) responsibilities, and other responsibilities as dictated by the future development of the program.  Contact the CSSS Executive Committee for more information or to get involved.
DCB Outreach Program: Our Fifth Grade Chemistry Outreach Program is a partnership between local elementary students and teachers and UCSB students and faculty. To improve educational opportunities for K-12 students, we have developed a program that brings fifth grade students to the chemistry lab at UCSB every Thursday morning to participate in hands-on standards-based physical science activities. The program is designed to nourish their natural curiosity in science and to stimulate an interest in pursuing a higher education in science. In addition, UCSB students are given the opportunity to share their love of science with elementary students and to consider a career path as a science educator.

SciTrek: SciTrek is an outreach program run out of the DCB that focuses on allowing 2nd-5th grade students to experience science first hand by designing, carrying out, and presenting scientific experiments. SciTrek allows UCSB undergraduate and graduate students the opportunity to volunteer within the program.
Center for Science and Engineering Partnerships (CSEP): CSEP offers professional development seminars and workshops for science, engineering and math graduate students on a variety of topics including personal skill building; communicating science; teaching and mentoring; and career development. To hone these skills, graduate students can serve as mentors and/or teachers for K-12 students; community college and/or university undergraduates; and other community partners through our various programs. All of the programs organized by CSEP welcome graduate student participation. Those interested should refer to the online program descriptions and contact the appropriate coordinator.
Graduate Students for Diversity in Science (GSDS): Graduate Students for Diversity in Science is composed of an interdisciplinary group of young scientists at the University of California, Santa Barbara (UCSB). The cornerstone of the group lies in recognition of cultural heritage and diversity of many exceptional scientists who have set resilient foundations through research in their respective disciplines and across many boundaries. The group aims to foster a peer-to-peer mentorship atmosphere to promote research excellence and networking opportunities in academia and industry.
Women in Science and Engineering (WiSE): WiSE, a non-profit organization, was founded in Spring 2001 to promote equal opportunity for women and girls in science and engineering and improve their scientific and career advancement. WiSE encourages the participation of all science/engineering undergraduates, graduates, researchers, faculty, and professionals in the Santa Barbara area.  WiSE hosts a weekly coffee hour, which serves as an informal event to socialize and recruit students who are interested in their activities.
Graduate Students' Association (GSA): The Graduate Students' Association is the elected representative government for UCSB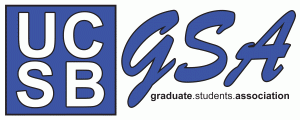 graduate students.  GSA is governed by an elected Executive Committee and a General Council of graduate student departmental representatives.  As the voice of all graduate students at UCSB, there are a number of involvement opportunities for current students.